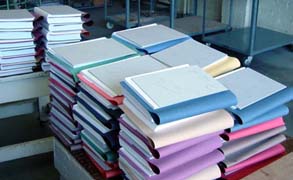 Despite the digital revolution library binding remains a staple for Campbell-Logan and continues to be an integral part of our day-to-day operations.
Library binding is used when strength and durability are key issues. Books that are bound in accordance to library binding specifications should be expected to withstand multiple circulations in an active library environment.
Library binding includes the binding of periodical or serial issues into hard cover books. Library binding also includes the rebinding of library books or monographs, text books, and hymnals.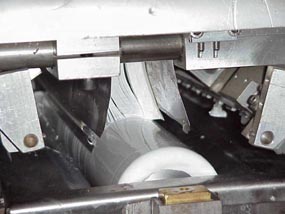 We are fully equipped to bind books in accordance to the most current specifications and standards for library binding.
Methods
For the majority of our library binding we use two different methods of page attachment, oversewing and double-fan adhesive binding. We can also side sew and sew through the fold.
Trimming, rounding, and backing are performed on most volumes. Whether or not these steps are applied is determined by customer desire and examination of each book.
For those books that are of average dimensions boards and cloth are cut to size with stock materials. For oversize books we also carry a full range of cloth on rolls and maintain a steady supply of full size boards in varying thickness.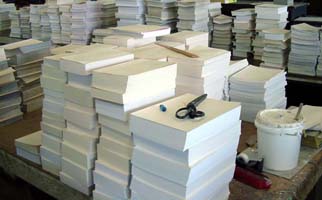 In cover making Campbell-Logan continues its practice of quality. We use two different adhesives for manufacturing cases. One is a protein adhesive which has proven to be reliable for over a hundred years. The other is a specially formulated polyvinyl acetate (PVA) adhesive.
Casing-in, attaching the text block to the cover, is something we continue to practice in an older tradition. In our day-to-day operations we still use cast iron standing presses. They have been replaced in most high volume binderies by faster hydraulic presses. We have found, however, that standing presses deliver a better product and we have learned how to work with the 24 hour drying time.